Information in English
Fornebu Trafikkskole AS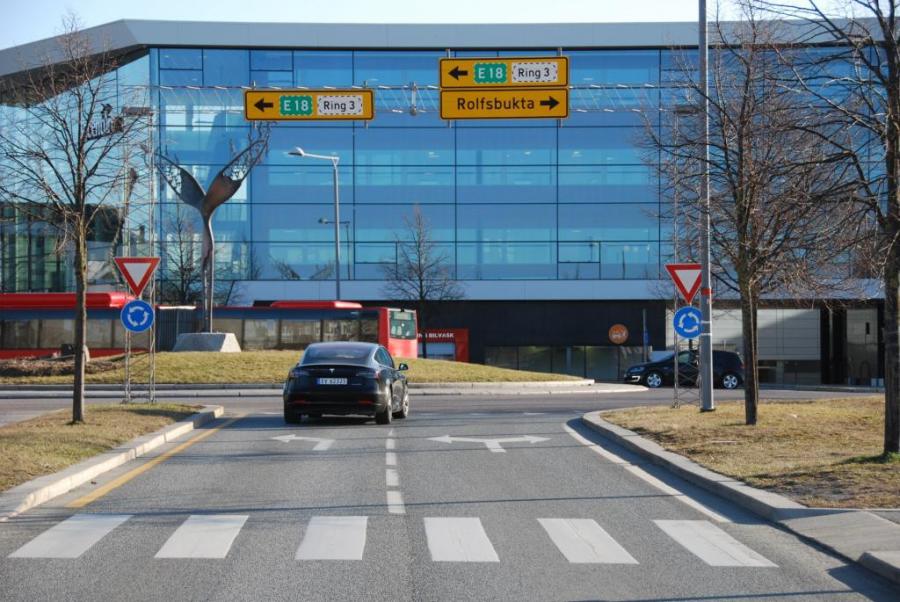 Information in English
A warm welcome to Fornebu driving school, where you always will experience the little extra you appreciate.
We have been assisting employees at Aker Solutions AS, Telenor AS, Statoil, IT Fornebu, British Petroleum, Rolls Royce, Teleplan, expatrelocation.no, Americans in Norway, INN and various shipping companies in the Skøyen and Lysaker area to convert their foreign licenses or starting from scratch.
Our office on Fornebu is located adjacent to Telenor Arena, Telenor and Aker Solutions. The office is in the same building as the old airfield tower, with entrance from the north side.
We offer following classes:
Class B with manual gear shift, class B with automatic transmission, classes B96 and BE, trailer sertificate.
Motorcycle class A, A1 and A2 as well as moped.
Do you need to convert your foreign driving license into a Norwegian one? We will help you explain all the formalities depending on your countrys license from A to Z, and also be of assistance with practical matters. If you fill in the application form on the front page saying "Påmelding", we will call you within the next business day.
If you want a direct contact or book a class, please call:

Herman Anker
Tel. 974 80 008 Lang. Norwegian, English und Deutsch
Kent Olsen
Tel. 994 55 511 Lang. Norwegian and English

for further information or simply send us an email to post@fornebutrafikkskole.com
Next basic theory class on Fornebu has following dates:
Dark driving demonstration will start in October.
Meeting place:
Forneburingen 57, 1360 Fornebu
The school's education plan for both theoretical and practical training is based on the Public Road Administration training regulations for class B as well as an in-house developed educational plan. The school is obliged to follow this plan during the tutorial.
THE STUDENT
The student is responsible for bringing proof of completed road traffic course (original) at all hours of tutoring. If the student does not have the evidence the class cannot be carried out, but must anyway be paid in full. When at a police control etc., a student without proof will be fined and will not be allowed to continue the driving class. The student must on its own responsibility make sure to have taken all the mandatory theoretical and driving classes (such as first aid, night driving courses, road traffic course, etc.) before the practical test at the public roads administration.
THE TEACHER
Each teacher has his students, you will normally get the same teacher during the tutorial. Because of holidays, illness, etc., it may be that you get another teacher for a short period.
THE SCHOOL CAR
You will normally use the same school car during the entire training time, including during the driving test.
THEORY EXAM
The theory test at the Public Roads Administration can be taken at the earliest 1/2 year before the age of 18.
Passed theory test is valid for 3 years.
After the theory test is passed, the student may be admitted immediately to the practical test provided he or she is 18 years on the test day. Those who drive up from March 16th and November 1st, have to attend the traficant in the dark demonstration until and including January 31st the following year, as this is seasonal.
EXERCISE DRIVING
Exercise and driving can be started at the age of 16, after completing the basic road course*, as long as the companion is at least 25 years and have had their license for a continuous period of 5 years for that vehicle. When driving, a practice road course evidence must ALWAYS be present.
* Road traffic course can be taken at the age of 15.
LOCK LIMIT
If a person is sentenced or convicted for drunkenness, the police or whoever he authorizes, decide that they should not get a driver's license until it has passed up to 2 years after the violation occurred.
Anyone who has driven a motor vehicle without a license for that group of motor vehicles may not get such a license the first time before it's gone at least 6 months, since the illegal conduct took place.
If it is caused more damage by driving, one cannot obtain such license before the expiry of at least 6 month since the incident took place. There is also usually block of deadlines for felony or misdemeanor. When the lock limit exists, it is illegal to practice driving. If the felony is repeated, the deadline might or will be extended, possibly forever.
TEACHING TIME
First session normally starts at 08:00, and the last is finished at about 15:30. A driving class has 45 minutes duration. Students attend at the school office or other fixed places. Please note that there may be some time of driving time when one meets elsewhere than at the driving school.
CANCELLATION OF CLASSES
If you wish to cancel a class, this must be made no later than 24 work hours before the class is due to start.
Classes Monday must be cancelled no later than Friday before noon. Mandatory classes of skid pan driving must be cancelled one week in advance, and safety classes on road, first aid, dark driving and the practical test itself cannot be cancelled later than two working days before the class. Cancellation of mandatory driving lessons must be made by contacting the teacher directly or by calling 974 80 008. The phone is generally operated continuously; SMS messages are NOT accepted for the cancellation of mandatory classes. The phone is normally operated between the hours of 08:00 and 20:00.
Classes that are not cancelled within the deadline must be paid for by the student unless we are able to replace the class with another student.
NB! Cancellation of compulsory driving and driving test.
Deadline: 2 working days before the agreed time.
This means that a mandatory driving and driving test on Monday must be cancelled no later than the Thursday before.
STUDENTS WHO MEET TOO LATE FOR CLASSES
The teachers will wait for 15 minutes. After this time is considered as a class "not met", and the student is not entitled to drive the rest of the class. The student must pay for the class in full.
CLASSES CANCELLED BY THE SCHOOL
Because of illness, technical failures, etc. we regret to reserve the right to cancel any class. We will in that case notify the student as early as possible. In the unlikely event that a teacher does not come on time, wait 15 minutes, then contact the school for an agreement on a new class.
PAYMENT
All driving lessons shall be paid in advance, either via Vipps or Bank transfer or by card. Payment instructions will be found on the students profile in www.tabselev.no. The school may also issue an invoice for payment.
ADMINISTRATION COSTS
When issuing any invoice, we charge the student with an administration fee of NOK 100,00.
DELIVERY OF THE DRIVING LICENCE APPLICATION
You can do all the applications through www.vegvesen.no, however, you have to meet personally to hand in your foreign license for exchange.
It is important that you have submitted the application as quickly as possible, since it takes time to get the paperwork through the conduct checks with the police.
NB. REMEMBER TO BRING YOUR IDENTIFICATION TO BOTH THE THEORY AND THE PRACTICAL TEST!
On your day of practical exam, before starting your drive, you will be asked one theoretical and one practical question from the examinor. This questionaire is available at our school.